School Resource Officers: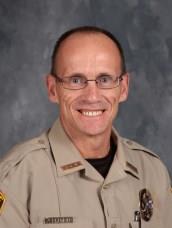 Phone: 417-859-2120 Opt. 9016
Email:
Degrees and Certifications:
Sgt. John Everett

Hi!

I'm John Everett. I have been a law enforcement officer with the Webster County Sheriff's Office since 2006. I spent the majority of those years as an investigator. I have an extensive training background, including Crimes Against Children, and School Resource Officer training. I have taken a large number of criminal investigation training courses, D.A.R.E. training, Drug Investigations, Gang related training, as well as intelligence gathering courses. I have worked on a large number of cases involving crimes against people, property crimes, financial crimes, and drug investigations, and have assisted in cases with many other agencies, including the F.B.I. and Secret Service.

I became the SRO at Marshfield Schools in 2016.

One of the things I have implemented since becoming SRO is a program called WeCARE, which stands for Webster County Awareness and Resistance Education. This program is similar to the DARE program, but is updated to include vaping, nicotine, alcohol, and prescription and non-prescription drug issues. This program has since begun to be taught in other area schools.

I like to interact with the students, and let them know if they have a problem they can speak with me about it, and if it is something better handled by counselors and/or administration, I will let them know that, and refer the student to them, or them to the student. I often receive phone calls from parents or guardians, who have a concern or some issue they need to discuss with me. I will always take the time to help with anything or discuss the reason something was handled in the way I did so. Sometimes a type of question is best answered by school administration however, and I try to keep the distinction between what is an administration issue, or is something I may be involved in, and could help with, such a juvenile referral. I have a good relationship with Webster County juvenile authorities, and have tried to bridge the school and juvenile office together in order to promote safety at the school, as well as an understanding of how the juvenile justice system operates.

Some of my daily safety duties involve checking hallways, especially between class periods, being present for bus loading and unloading of students, cafeteria patrol at lunch time, as well as other duties. I work certain sporting events, including all of the home varsity football games, providing safety to both spectators and students. My day is rarely the same, and I have to be flexible to assist or help where needed. I also perform other duties such as checking on a student who may be absent, taking a sick child home because the guardian is unable to pick them up, as well as delivering something to the home a student may be in need of, such as a Chromebook, an internet hotspot device, school work for a quarantined or sick student, as well as a variety of other things.

There is so much more to being an SRO than just school safety or juvenile criminal issues. Being an SRO means wanting and expecting, as the school does, for each student to have a successful and happy life, and have the kind of school experience that promotes that. I am very honored to be a SRO for the Marshfield School District, which I believe to be one of the best in Missouri. Go Bluejays!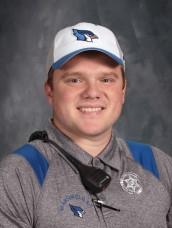 Phone: 417-859-2120 Opt. 2425
Email:
Degrees and Certifications:
Deputy Sheriff Bo Atkison

Hello!

I'm Bo Atkison. I am a 2017 Marshfield Graduate and I graduated from the Drury University Law Enforcemenet Academy in 2019. I began working at the Webster County Jail in 2019 and have been working law enforcement with the Webster County Sheriff's Office ever since. I have spent the past two years working as a jailor at the jail, working patrol, and working as a School Resource Officer.

I became a SRO at Marshfield Schools in November of 2019.

Since then I have completed the D.A.R.E. instructor course and I am now a registered D.A.R.E. training officer in the state of Missouri, and am hoping to bring a D.A.R.E. program back to Marshfield Schools. There are more classes other than drug awareness provided through D.A.R.E. including a class called "More Than Sad" which provides information on teen suicidal awareness. D.A.R.E. has also added new information about vaping and has adjusted the courses so they would be able to be taught to Middle School and High School.

Some of my daily duties include checking the hallways, especially between class periods, being present in the cafeteria to help deter foul behavior, and helping assist during bus traffic at the end of the day. I also work during home sporting events. I work varsity football games at home on Friday nights, I also work the home basketball games during basketball season. My day is rarely the same, I have to make myself available for the other two schools on my campus. I also check on students when they are absent from school, deliver Chromebooks to students who are at home sick, as well as a variety of things.

I love working for the sheriff's office and I love being placed at the schools! Being a SRO to me means being there as an asset to the schools and to the students.

Go Big Blue!