Return to Headlines
MVP (Marshfield Virtual Program)
Marshfield Virtual Program (MVP)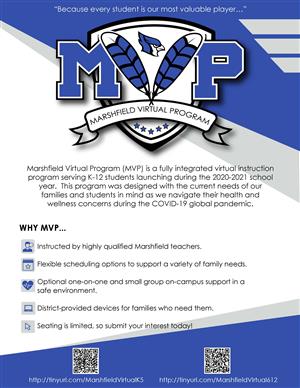 Hello Blue Jay Families!
As we quickly approach the start of our 2020/2021 school year, we continue to recognize the importance of maintaining a constant pulse on the COVID-19 circumstances in our community, and with this in mind, continue to diligently plan for a successful return to campus. We are eager to welcome our students back to campus soon. As we say this, we are aware that the needs of our families and students are diverse, and some families may not feel 100% ready for a full return to campus due to health and wellness concerns. With this in mind, we are excited to share the following news.
As of today, Marshfield Virtual Program (MVP), will become our official K-12 solution for virtual and limited on-campus instruction for Marshfield students and families. MVP is a K-12 virtual learning experience with the following course features:
Designed and/or facilitated by highly qualified Marshfield teachers

Engaging and customized lessons to fit individual student needs

Opportunity for face-to-face learning support in one-on-one and small group settings

District-provided devices for online learning

Multiple course formats (on/off campus) to meet individual student/family needs

Flexible scheduling options to accommodate differing at-home schedules

Innovative Learning Management Systems powered by Canvas and Seesaw for Schools
We believe MVP will be an excellent option for families with substantial health and wellness concerns related to returning to campus in August. With this in mind, we also believe on-campus instruction is critically important to student success, and have developed extensive plans to keep students safe with our return to campus. We encourage all families to choose on-campus instruction whenever possible, but recognize that the current COVID-19 situation may lead some families to seek a virtual and/or at-home solution. For additional information regarding MVP please access the document below.
If you are interested in enrolling your student(s) in MVP for the 2020/2021 school year please access the appropriate link below for your student(s). Please note, an interest form must be submitted for each student you wish to have considered for MVP enrollment.
K-5 Marshfield Virtual Program (MVP) Interest Form
6-12 Marshfield Virtual Program (MVP) Interest Form
Thank you for your continued support, and we look forward to seeing you soon in August.
Sincerely,
Dr. Garrett Lowder
Assistant Superintendent of Academic Services
417-859-2120