Return to Headlines
2020 Summer School - June AND July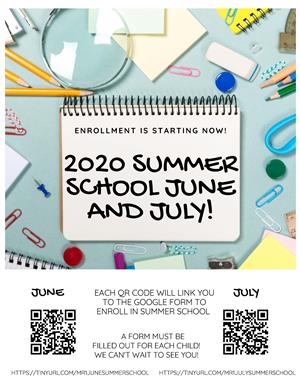 Dear Blue Jay Families,
We are excited to announce our VERY tentative plans for 2020 summer school. While we are excited to make this announcement, it is important we reiterate that our summer school plans could change at any time. We have been advised by the Department of Elementary and Secondary Education to remain diligent in following CDC and local health department guidance, and as you know, guidance can and will change often. We have also been advised to operate with "maximum flexibility" in our program design, and we would ask our parents and families to consider the same approach moving forward.
At this time we are planning to offer TWO summer school sessions for the summer of 2020.
Session 1: Blended/Virtual Summer School: June 1st-26th 1-8 Blended Learning Summer School
Partially on campus (four ½ days per week with groups of 10)
**Group size and days on campus could change** Partially online/virtual
NO kindergarten course offerings in June NO transportation offered
9-12 Virtual Summer School All courses 100% online
Assignment completion required if you choose to enroll
Session 2: Traditional Summer School: July 6th-31st K-8 Fully on campus IF possible
Limited transportation available IF possible Some virtual options may be available
9-12 Virtual Summer School All courses 100% online
Assignment completion required as if you choose to enroll
While we know nothing will ever replace the learning experiences our teachers offer on campus, our summer school teaching teams will be working hard to make all learning experiences the highest quality they can possibly be in the circumstances. We encourage each of our families to consider enrolling their student(s) in one, or both, of our 2020 sessions. We believe every opportunity to address learning gaps that may have been created by the COVID-19 closure will help us to ensure we continue to prepare each student for a successful future!
If you are interested in enrolling your child in one, or both, of our 2020 summer school programs, please access the QR Code on the other side.
Thank you, Summer School Team